With the emergence of blockchain technology, which is one of the technological blessings of recent years, and the adoption of crypto currencies by people, new projects have started to be implemented in this area. But it is a fact that, as with new technologies, deficiencies in the cryptography field, fraud and fraud, the height of advertising fees are among the problems in the system. Therefore, such situations have a negative impact on the success rate of new crypto projects. For this reason, many companies have decided to ban advertisements related to crypto projects. Considering all these challenges, the market has launched a platform called CRYPTOMARKETADS to bring together award-winning hunters, influencers and publishers in the crypto market. So what is CryptoMarketAds? What benefits will it provide to us? All these questions I have explained below.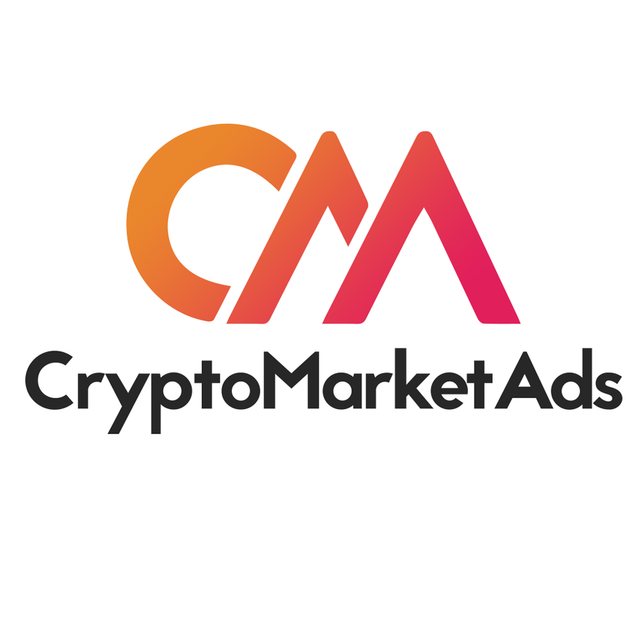 WHAT IS CRYPTOMARKETADS?
Cryptomarkets is an ad platform that solves all crypto advertising and marketing problems by gathering advertisers and publishers together on a single platform to deliver a fair and Democratic market. With CMA, advertisers will be able to carry out marketing and marketing campaigns quickly and reliably without requiring a large number of funding or major advertising and marketing teams. Publishers will be able to do all kinds of crypto advertising and marketing at the lowest prices.
In this way, CMA provides investors and businesses with unique opportunities to start crypto projects in a more secure and risk-free environment. You shouldn't go over it without saying: The market is already running and has received more than 400 offers in just six weeks. CMA offers a special market for crypto businesses to market and grow themselves.
The CMA team is working on the company by offering a decentralized market that will enable crypto enterprises to build their own markets and developed the project to provide a platform for funding in an ICO market that will enable businesses to carry out crypto work.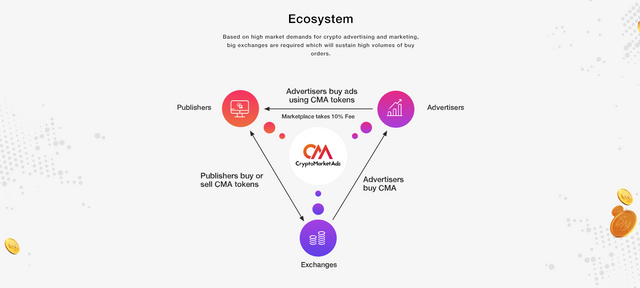 ICO and TOKEN INFORMATION
The crypto marketads platform is its own token, CMA. CMA is the only payment option on the platform. For ads and service payments by advertisers, CMA is used to access platform services.
Token name: CMA
Total token amount: 10.000.000.000 CMA
The amount of token to be distributed: 5.00.000.000 CMA
Hardcap: 50,000,000 USD
Accepted currency: ETH
Preliminary sales: 15.05.2019
Public sale: 12.06.2019
Special sales continues until June 4 price 1 CMA = 0.005 USD
IDAX.ieo on pro 17-18 June and the price will be 1 ETH = 22888 CMA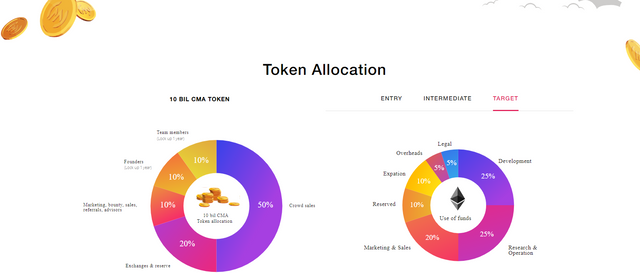 TEAM:
The CryptoMarketAds project was created by a team of professionals with more than eleven years of experience in marketing, advertising and development. Team members are listed below.

ROADMAP:

As a result, the crypto market has been developing in recent years. But advertising campaigns are needed for projects. Here, CMA offers a fair and Democratic market by aggregating advertisers and publishers on a single platform. You can visit the following pages if you want to join the IEO and learn more about the project.
Website : https://www.cryptomarketads.com/
ANN Thread : https://bitcointalk.org/index.php?topic=5123256.0
Whitepaper : https://www.cryptomarketads.com/CMA_whitepaper.pdf
Facebook : https://www.facebook.com/cryptomarketads
Twitter : https://twitter.com/cryptomarketads
Telegram : https://t.me/CryptoMarketAdsOfficial
Medium : https://medium.com/@info_85454
Reddit : https://www.reddit.com/user/CryptoMarketAds
Discord : https://discord.gg/vQ7hmTd
YouTube : https://www.youtube.com/channel/UCuxX-rPnrI4j2KqybFk_-jQ
Bounty Thread : https://bitcointalk.org/index.php?topic=5146873.0
My Bitcointalk Profile Link (adempostaci): https://bitcointalk.org/index.php?action=profile;u=1538255