Cryptocurrency and blockchain technology are now taking their place in every aspect of our lives. Therefore, our business and operations have been digitized and every hard-to-reach information has become as close as just a click. Thanks to the Internet, our communication opportunities have increased in every field and in every sector, geographical boundaries have been exceeded, production has become more efficient and profitable with the advantages of technology, and companies have agreed to reach their operations to every corner of the world. New breakthroughs have begun, especially in the financial sector. In fact, the history of banking is very old, but the foundations of modern banking 17. it was laid down in mid-century.
We all know that with the need for a reliable and institutional structure in which people can deposit their money or valuables, banking has started to develop rapidly. In addition, most problems arising from the traditional banking system are eliminated because of the speed, transparency, economic nature and lack of center and high confidence that the blockchain, which is a revolutionary technology, will offer us.
In this process, POINTPAY aims to provide a highly advanced cryptocurrency service that will make us forget everything we know about banking with the modern and technological approach it offers and makes all transactions related to the cryptocurrency world much simpler and easier. So what is POINTPAY? What benefits it will provide us. Here's my explanation for all these questions below.
WHAT IS POINTPAY?
PointPay is an all-in-one solution platform for banking with the shortest definition. All-in-one, PointPay includes a multi-currency crypto wallet, the PointPay Crypto stock exchange platform, and the crypto PointPay bank. The aim of the platform is to create an all-in-one innovative solution for secure and fast transactions in cryptocurrencies and fiat currencies.
PointPay crypto bank; you will be able to trade with crypto bank without low fees, fast transfer worldwide in crypto asset transactions, currency restriction. PointPay crypto banking also includes virtual, bank and loan, fiat and cryptocurrency cards, Online mobile banking, crypto consulting, cryptocurrency investment, cryptocurrency trading, cryptocurrency lending services.
With PointPay crypto wallet you will be able to have the world's first multi-currency wallet. PointPay wallet is designed for everyday use with a single address for most cryptocurrencies. Simple, safe to use is easy.
PointPay is the platform where you can buy and even transfer your crypto assets with 24/7 customer support via the crypto exchange. Thanks to the handy interface, it provides the opportunity for novice or experienced investors to trade without difficulty.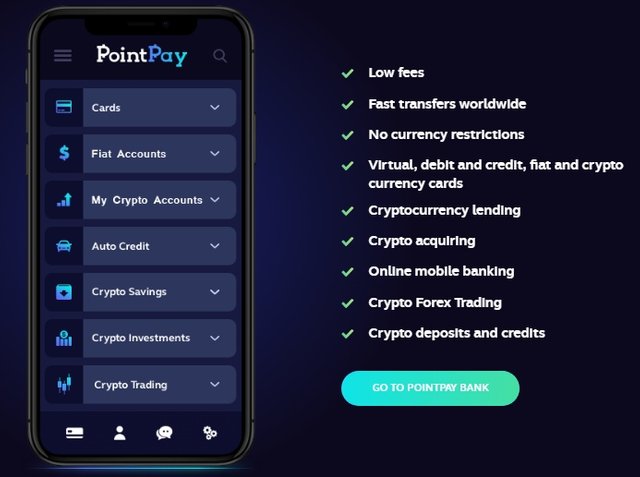 TOKEN INFORMATION
PointPay will use the PXP token, which complies with the ERC-20 standard based on the Ethereum platform, to ensure compatibility and security of transactions with third-party services on its platform.
Token name: PXP
Token platform: Ethereum
Total token amount: 500,000,000 PXP
Softcap: $1,000,000
Hardcap: $30,000,000
Token price: (first round; $ 0.10) – (second round; $ 0.20) – (third round; $0.30)
Note: tokens that cannot be sold at the end of the sale will be burned.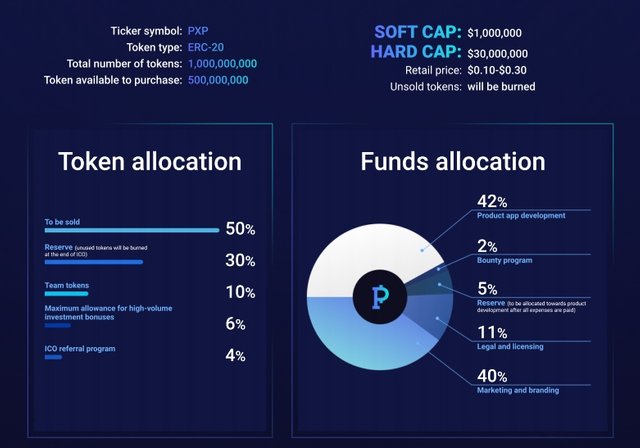 ROADMAP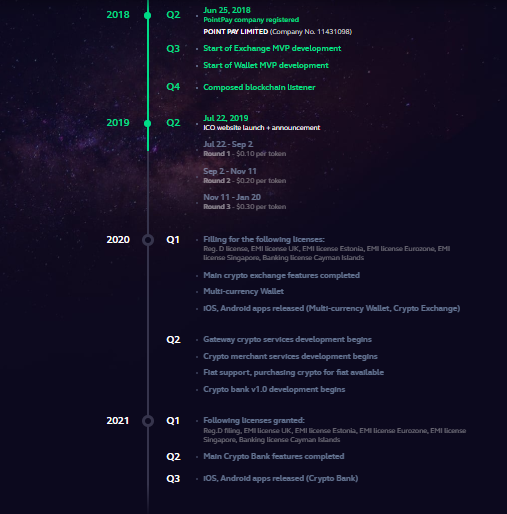 TEAM
PointPay is a project of expert investors, finance experts, blockchain experts and data analysts. team members are listed below.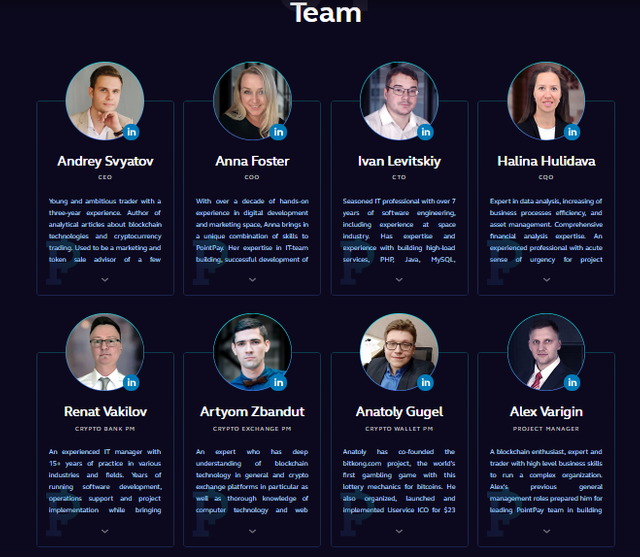 As a result, PointPay is a platform that rewards its users with many advantages. With the project, you will be able to send and receive your crypto and fiat currency transactions at the lowest rates in a short time. With PointPay, you can easily do it from one place for all your crypto banking needs. If you want to get more detailed information about the project and join the project, you can visit the following pages.
Website: https://pointpay.io/
Whitepaper: https://cdn.pointpay.io/WhitePaper__en.pdf?cache=1.4
ANN Thread: https://bitcointalk.org/index.php?topic=5146099
Telegram: https://t.me/pointpay_talks
Twitter: https://twitter.com/PointPay1
Facebook: https://www.facebook.com/PointPayLtd
Medium: https://medium.com/@pointpay
LinkedIn: https://www.linkedin.com/company/pointpay/about/
Reddit: https://www.reddit.com/user/PointPay
Github: https://github.com/pointpay-technologies/sc
YouTube: https://www.youtube.com/channel/UCS-_VDX97myxM5yLPYezH-w
Btt username: adempostaci
Btt profile url: https://bitcointalk.org/index.php?action=profile;u=1538255