Terawatt will create a Decentralized Autonomous Organization (DAO), and also create a highly deflationary Ethereum based currency for global payments. The DAO will be funded and used by Utility Companies, L.E.D. Sellers, Businesses, Token Holders, and Energy Customers worldwide. The DAO will act as a decentralized global mutual/insurance fund to ensure Utilities always have access to funding for subsidizing L.E.D.\ sales to their energy customers.
The Terawatt Token will also be used as a currency similar to ETH at any business or utility company that will accept it as method of payment. DAO members with sinesses will want to accept Terawatt tokens as payment because they will gain increased voting/staking power in the DAO, and because it's much more deflationary than FIAT or other cryptocurrencies due to continual coin burning structure, which equals potentially increased profitability.
MISSION
Terawatt will create a DAO, and also a deflationary Ethereum-based, private token for global transactions. The DAO will be funded and used by utility companies, L.E.D. sellers, businesses, token holders, and energy customers worldwide. The DAO will act as a decentralized global mutual/insurance pool to ensure utilities always have access to funding for subsidizing L.E.D. sales to their energy customers.
GOAL
Leverage blockchain technology to help reduce global lighting electricity consumption 50 percent by 2035, while also increasing light output by 50 percent. Terawatt will also create a deflationary currency to compete with FIAT and digital alternatives like Bitcoin. Terawatt aims to tackle other renewable sectors like Solar, Wind, Electric Vehicles after proof of concept is achieved with L.E.D.s.
FEATURES
LED Incentives
Terawatt Token will act as a rewards system for each L.E.D. bulb purchase that's verified by our patent-pending process. This serves as an incentive for users to purchase LEDs for home, businesses, or government use and verify them through our interface
Data Storage
LED purchase records may be securely stored in the Terawatt ecosystem. This allows the purchasing entity to return at tax time and have all of their LED and other Energy Star Rated Purchase records readily available. The user pays a small token fee to access the records again.
Community Based Governance
Donated funds may be locked into a pool, and the global Terawatt community will vote/decide on what projects get funded and how much funding will be provided or set on the side for these projects.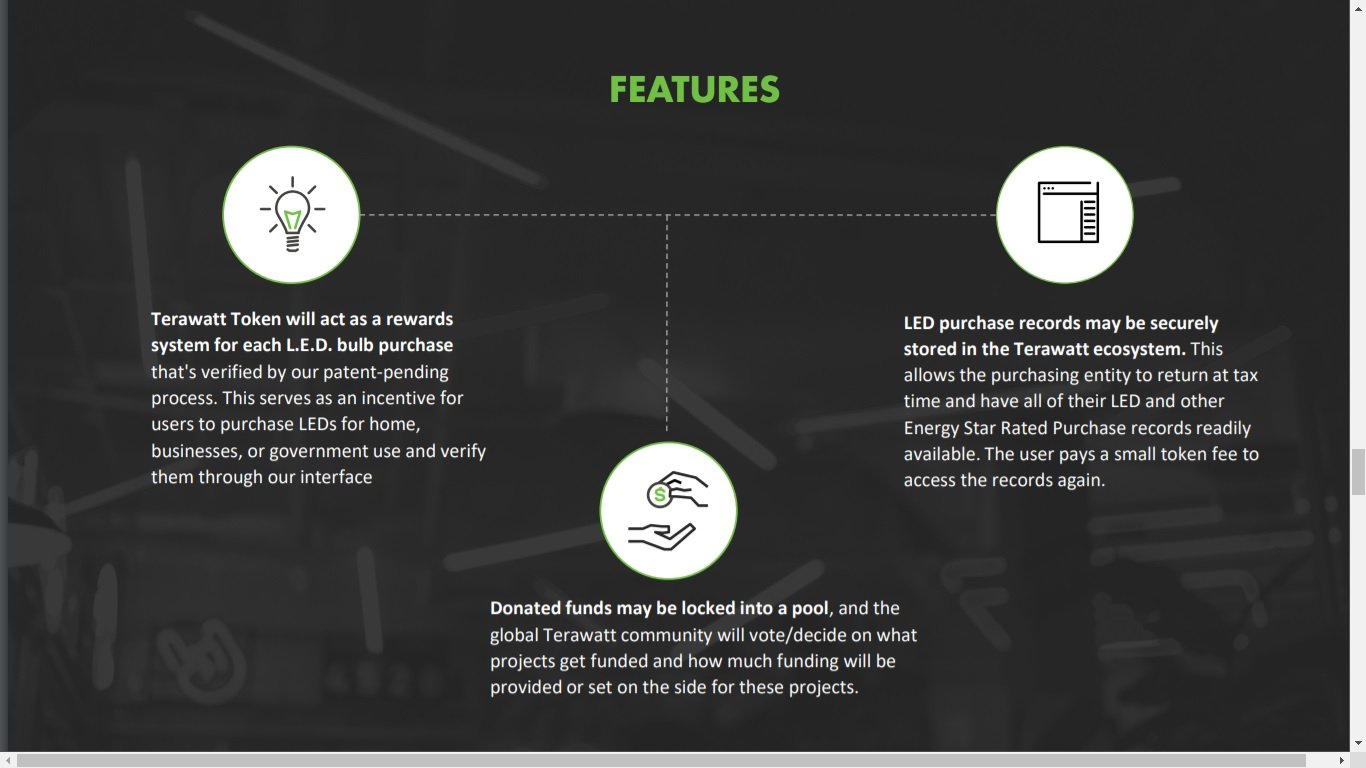 THE LIGHTING PROBLEM/SOLUTION
Inefficient light bulbs are creating both unnecessary greenhouse gas emissions, which contribute to climate change, and unnecessarily exorbitant electricity bills for peoples and governments. Terawatt will help to fix this problem by driving LED adoption
TOKEN DESCRIPTION
Terawatt project will use Ethereum to issue and create tokens mainly because it has the base foundation that technology will implement. Terawatt will manipulate the blockchain smart contracts. Terawatt token will be a standard ERC20 token with some specific modifications. Terawatt algorithms will verify that the consumer has actually purchased the bulbs from a suitable seller and add the transaction to the blockchain. Smart contracts will execute and manage the entire process.
TOKEN INFORMATION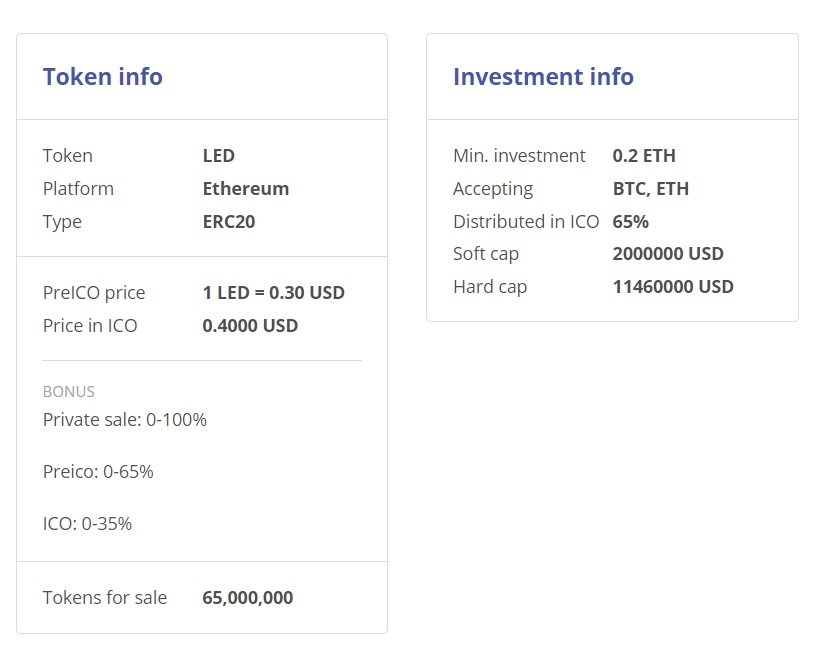 ROADMAP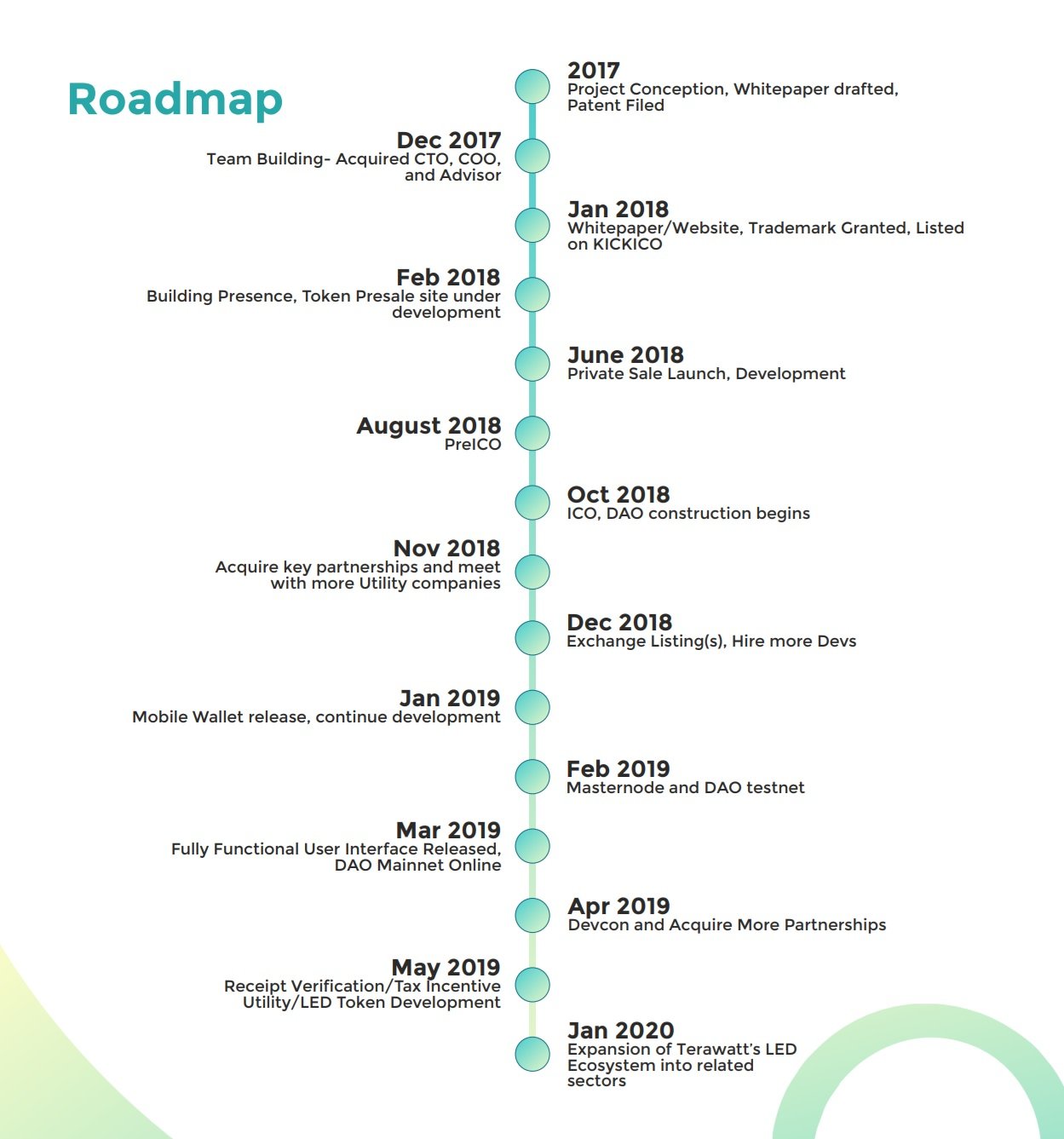 TEAM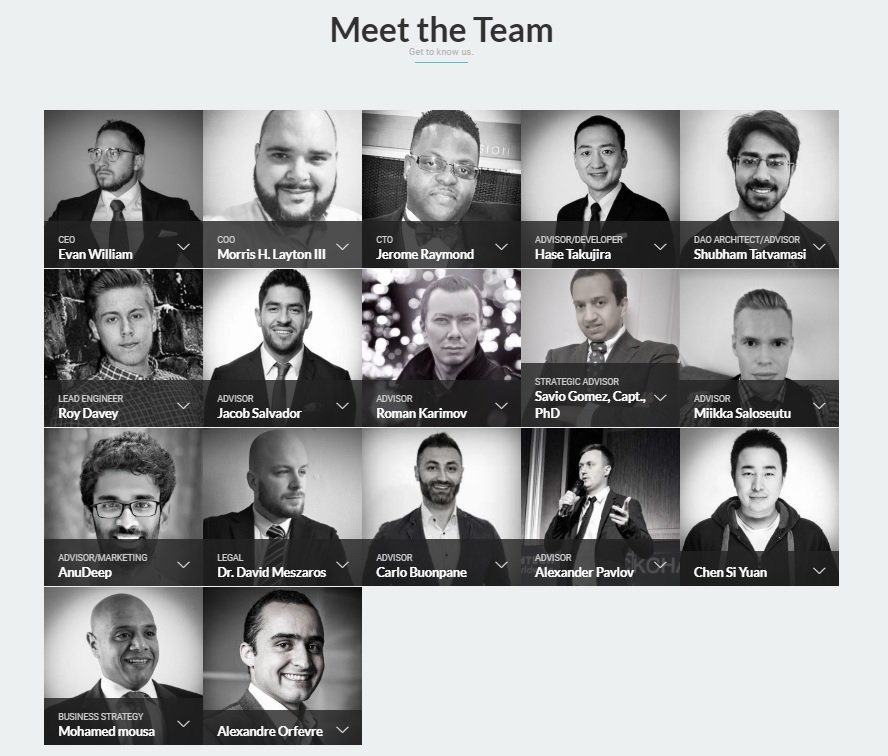 For more information, you can visit the links below
Website – https://terawattled.com/
Whitepaper – https://terawattled.com/assets/Terawatt.pdf
Twitter – https://terawattled.com/assets/Terawatt.pdf
Facebook – https://mobile.facebook.com/Terawatt/
Telegram – https://t.me/TeraWattICO
ANN – https://bitcointalk.org/index.php?topic=4180151.0
Youtube – https://www.youtube.com/channel/UCNtUjNIRzbUQBK95dYinJhQ
Author : adempostaci
BitcoinTalk : https://bitcointalk.org/index.php?action=profile;u=1538255